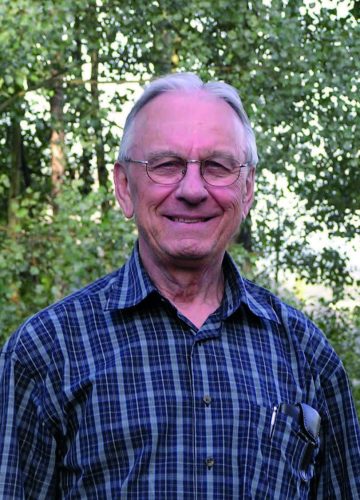 Share with friends and family
Marcel Bilodeau took his final breath on the last Sunday in May at the age of 86. A victim of COVID-19, he is remembered by his three daughters as a man who was proud, principled and always present. It is that last quality – his constant presence in their lives, which came accompanied by all his quirks, traditions and quiet, understated optimism – that they struggle to reconcile themselves with now. Managing a void of that size and significance is an unexpected challenge.
In the last two years before his death, Marcel struggled with dementia, but despite episodes of confusion and lapses of memory, he also had moments of poised clarity that both surprised and reassured his daughters
– Carole, Linda and Louise – for they underscored a truth they have known throughout their lives – he treasured them. For that is what he had always called them – individually, collectively and, as long as they all can remember: "Mes trésors," is how he expressed it. As effortlessly as if he were referring to them by their names, he continued to use this term of endearment when addressing them right up until his final days.
Perhaps the importance of family for him came from growing up with a sense of loss. The eldest of six children, Marcel was only eight years old when his father, Philippe, died. At that tender age, Marcel found himself
helping his mother, Amanda, raise his younger siblings – two brothers and three sisters. Over the years, according to his daughters, he developed a deep, unwavering appreciation for his mother and his two aunts, Marie and Marie-Rose Gingras, who were very present throughout his childhood.
He helped his mother make ends meet
In his youth, Marcel was cognizant that, as a family in the Villeray district of Montreal, they did not always have a lot, but they had each other. The experience instilled a deep-rooted sense of responsibility in him.
When he landed his first job as a shoe-shine boy, one of many part-time jobs, he began the practice of handing over his paycheque to his mother to help her make ends meet. This practice continued as he got older and
entered the workforce full time. In fact, he continued supplementing the household income right up until he married, a milestone that was marked by his mother instructing him he had to start focusing on providing
for himself, his new bride and the family they would one day have. As for the practice of making sure his shoes were always shined, that lasted a lifetime.
Marcel's family – his three daughters and, eventually, his seven grandchildren – would become the centre of his life. And the stories his daughters recount today of their childhood make them laugh and then suddenly pause, seemingly interrupted by the realization that the central character of their narratives from the past is no longer part of their present.
The stories they remember jump from scene to scene as they retell them. Marcel was always enthusiastic about Halloween. Each year, his three daughters, who would always look forward to the annual event, were encouraged to dress up, and Marcel would take them door to door to collect candy. But wandering around the neighbourhood was always a brief excursion. After ringing a few doorbells, Marcel would hustle them into his car, and off they went to visit their great-aunts and grandmother. It made the elderly women so happy, he told his daughters, who followed along grudgingly.
"We had a little bit of Halloween and then it was off to go see the old aunts," said Louise. "It made him so happy."
Then, there were the annual summer trips to visit family in Percé, the town along the Gaspé coast where Marcel's in-laws lived. Marcel found innovative ways, according to his daughters, to multi-task – juggling being a responsible parent while turning his attention to fishing off a wharf. He simply would tether his three girls to a post on the dock with ropes. There was no fear of drowning if they could not reach the water, according to him. The scene on the dock provided great entertainment for the local cousins who taunted and teased the city girls.
'We were old enough to be embarrassed'
When asked how old they were when their father did this, the response was quick – there was no need to ensure the dates were correct: "We were old enough to be embarrassed," said Louise, making it clear that the torment and ridicule were vivid in her memory, but the intervening years have allowed them all to see the humour in it now. But their laughter, again almost on cue, fades, and the sisters find themselves pausing. Another story, another memory and another realization that the line between their past and their present is somehow now more pronounced.
Then, Carole throws out a question to her other two sisters: "Do you remember the snowblower?" And the laughter returns.
Marcel was the first one in the neighbourhood to have a gas-powered snowblower. He was very proud of that snowblower. He relished a good storm that would give him the excuse to fire it up. But Marcel would not just clear his driveway. He would make his way down his street to blow the snow from neighbours' driveways as well. Wearing a green coat and hat, he walked behind that blower for hours, only to return home looking half frozen.
When his grandchildren were born
The stories of Marcel – from his career at the Montreal Gazette, where, as a member of the advertising department, he was affectionately known as the "insert guy," to how he attended church every Sunday for most of his life, to how he had to adjust to life as a bachelor again in his 60s after a separation, when he found himself learning things like how you actually had to add milk to the mix when making tomato soup from a can – they are now all fondly remembered. But perhaps the stories his daughters hold most dear are the tales of how he was in the delivery room with each of them when most of his grandchildren were born.
There, along with his sons-in-law, he marvelled at the experience, and was moved by the privilege of just being there, something that the custom of the times denied him when his own children were born.
"It was pretty magical for him," his daughter Carole said. It gave him a deeper respect for women that was already firmly rooted by watching his mother raise six children alone, and confirmed by his wife while they raised their three daughters.
"It gave him a new perspective," said his middle daughter Linda. "It changed part of his world. And it changed mine."
He was respected
Marcel was both a traditional and modern man. He was a family man. He was a professional. He was a father. He was a grandfather. He was a respected neighbour. He was a friend. He was a man who thought family gatherings always needed to include food. He was a person with simple tastes. He was happy with a sandwich – as long as it had a lot of mustard. He was a man who could fix and repair things. He was a skilled home renovator. He was a gentleman. Marcel Bilodeau is a man who will be forever missed.
***
Marcel Bilodeau leaves to mourn his three daughters – Carole (Claude), Linda (Kevin) and Louise (Marc) – his grandchildren – Catherine Anne Duguay, Olivier Duguay, Elizabeth Duguay, Victoria Jackman, Liam
Jackman, Seleste Beaulieu and Taishan Beaulieu, – his former spouse, Florina Aubert, many friends, neighbours and former work colleagues. There will be no funeral. He will be interred at Le Repos Saint-François d'assisse cemetery in Montreal in a private family ceremony.